Richard Hopkins has had a short but significant journey with LEGO that produced one of the very best MOCs seen at the 2019 Bristol Brick show (his outstanding Victorian Train Station) and there's definitely a lot more to come. Here's his story, in his own words:
"There was a time in my life when I hit a wall.
After years of bad choices and another marriage over I turned to LEGO, not knowing how it would help me feel, but with the idea that as a child I was happy building LEGO. Building LEGO, and creating worlds, be it space, a rail road or a construction site the builds and the worlds they created were limitless.
I was lucky enough to have a lot of LEGO space sets as a kid so to create a space environment was easy. The spaceships took part in many missions, always with lots of crash landings! Those crash landings obviously needed LEGO space firefighters so the red spacemen minifigures became the space firefighters. Then, after many adventures, the LEGO space would get packed away and central station was built in it's place, with it's miles of blue and white track. With just a couple of push along trains at first, motors were then added later and coupled with a huge battery box to power the trains. There were often breakdowns so the trains required a crane to pick the broken engines up and take them back to the engine shed to be repaired.
From trains to spaceships there were countless stories made with the LEGO but one thing was always true for me - the worlds it built were perfect. You could escape to this plastic perfect world, a 3D puzzle of imagination. So when I hit this point in my life, this wall, I decided to build. I don't know why I chose or turned to LEGO but I just did. I went on Facebook and looked for LEGO groups, as I already knew there were LEGO shows by adult builders and on one of these pages I was approached by Nick Amos from the GertLUG group (we've all been there Richard!- Editor). This was 2019 and turned out to be just 12 weeks before a LEGO show (the brilliant 2019 Bristol Brick Show). The LEGO show was raising money for good causes, one of which was a cancer charity. My dad died of cancer and we have all lost someone or know people who have lost someone close to cancer so the cause meant something to me.
At this point I told Nick that I had no LEGO, not one piece, but I assured him that by the time the show was on I would have built something spectacular, something amazing! At this point I could see the build in my mind, it was a train station and some trains. At this point in my mind the station was perfect, I could see the build and it was all built with bricks available 40 years ago. But LEGO has come on a long way in those 40 years so I went onto Bricklink and looked at what bricks were available now, and I started to see in my mind how those new bricks would work.
As I looked through I saw the lion head bricks and I knew I had to get those bricks into the build, so I ordered some bricks, in fact hundreds of pounds worth of bricks and 4 base plates, and I soon began to build. The build process was intense, and I found I would become the architect and get totally lost in the build imagining I was both a builder and an engineer. My vision had to be perfect because my LEGO world was perfect.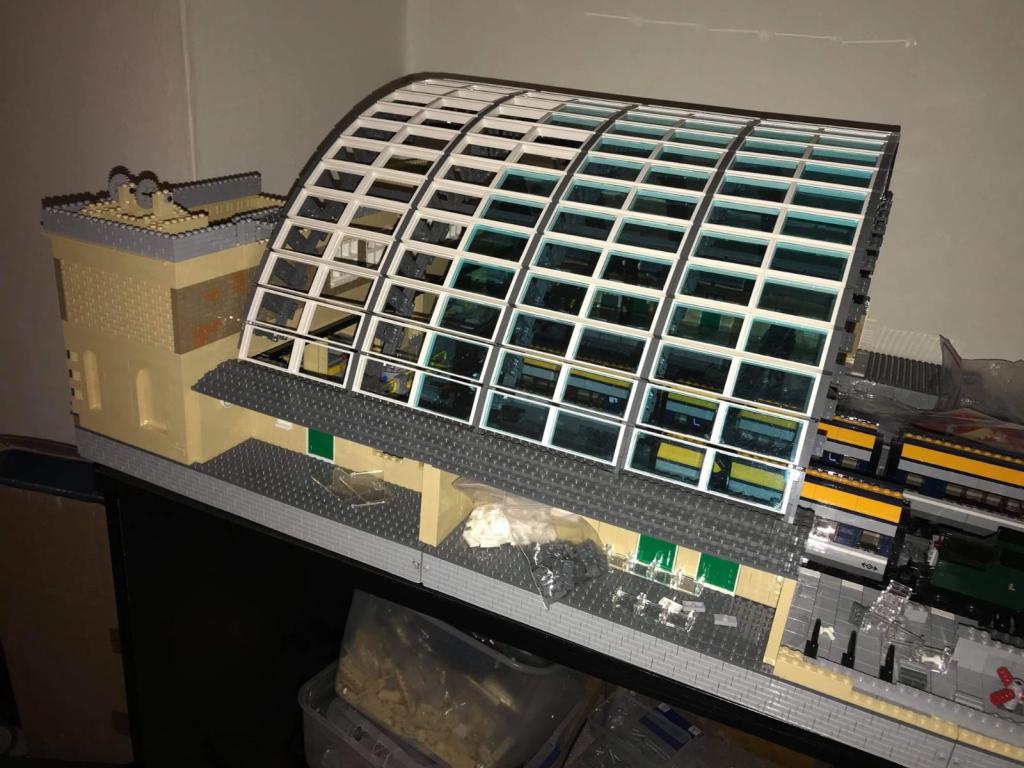 This was all a world apart from how my own life was but in this perfect LEGO world I found happiness for a number of reasons. Everything went into the build - time, love, energy and money (maybe thousands!). I had created something amazing in only 12 weeks but not only that I had made friends in the LEGO world, the AFOL family.
After the show I decided that a perfect world was created but now I would need to leave the LEGO world and fix and rebuild my own world. The LEGO world was a great distraction, a way to escape life in the real world, but the focus on the build and the show fast approaching had driven me on, and I loved it!
I loved building, I loved the perfect world and this was my perfect world. The show was amazing and all the other perfect worlds by other builders were equally amazing. There was no build better than anyone else's just LEGO creations but the public chose their favourite builds I got joint 3rd! I Guess I'm a good LEGO builder and my new project is coming along very nicely too.
My life is back on track, although perhaps not as perfect as the LEGO worlds I have escaped to, but the bricks have definitely helped me though a tough time.
Richard Hopkins."
Look out for more from Richard on our Facebook group, and perhaps even in the local press in the future! Below is a little sneak peak at his current project. - Editor