After being treated to a great meeting hosted by Richard from Brick Alley earlier in the month, the second meet of the month saw Brick Alley's Sunday afternoon slot at 1pm taken over and hosted by James (Secretary) and Emily (Social Secretary) of GertLUG.
To kick things off we had some quick introductions and a question of "What is your favourite element?". With 17 attendees from both GertLUG and Brick Alley present there were some obvious choices (1x6 brick, jumper plates) but also unusual ones such as the 45 degree angle plate (15706) and the classic handle element (2432).
We then got a very brief look at the beginnings of new Brick Alley member Mark's Starship Troopers battle of Klendathu MOC. Very much a work-in-progress but the finished arachnid or 'bug' was brilliantly realised and we definitely look forward to seeing a completed scene.
The first, and main game, of the day was a classic "guess how many bricks are in the jar" with a few extra questions to add to the challenge, including the number of different elements, the number of different colours, weight of the jar in grams and the total number of studs in the jar (remarkably James had actually worked this out beforehand!). After all the guesses were in James took a backseat to add it all up, work out the points and see who had won whilst we all moved on to a 10 minute build challenge.
This first challenge was to build a well known landmark, with whatever bricks you had to hand, and then among us we attempted, mostly with success, to guess what they were. These impressive quick builds included Nelson's Column (topped by a pirate), the Washington Monument, Clifton Suspension Bridge (close to home for us GertLUGgers), the Angel of the North and an unreconisable Glastonbury Tor.
Switching to breakout rooms we were given another 10 minutes to build our favourite food. Strangely the 'go to' favourite food for LEGO aficionados appears to be pizza with no less than 5 people making it (I actually lost count, it could well have been more!). Alongside the range of pizzas were chips, birthday cake and sushi.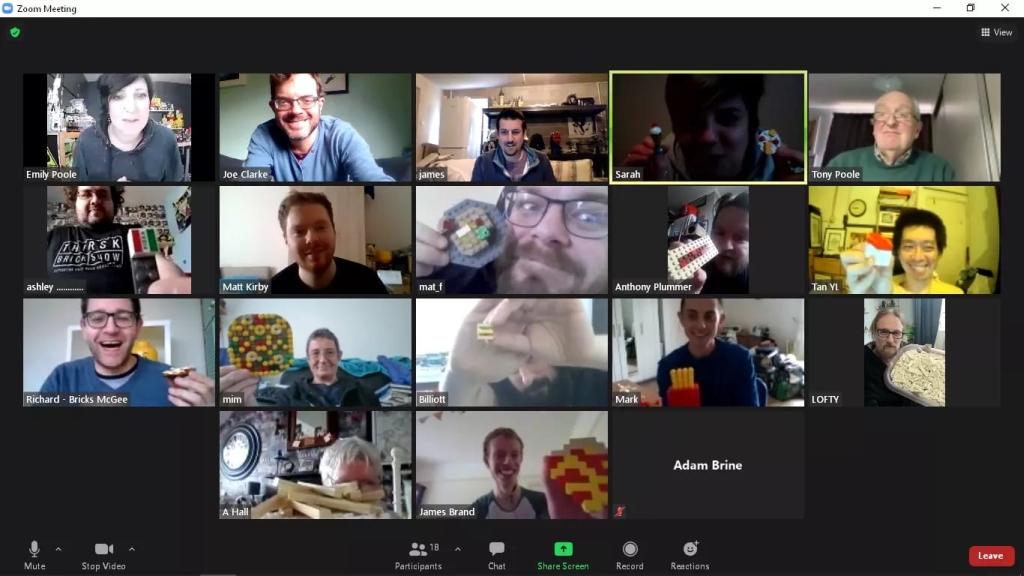 The third and final quick build saw us making anything you might find on a beach. Again the guesses came in quickly, and largely accurately due to some very nice builds. Driftwood, a windbreak, seaweed and a sunlounger complete with palm tree and cocktail and i think we were all pining for a trip to the beach by the end of it...
The final big challenge was a more complex one and involved getting together 15 different elements, in varying small quantities and whatever colours you could find, and using these to build anything at all you could think of. This turned out to be a quick tricky challenge with a mass of oddly matched and strangely colourful parts to work with. Using just 3 words we then had to describe our build to the group and some of these were as follows 'GertLUG robot', '60 year old sewage outlet', 'SNOT crab', 'Studio police coffee refill', 'Hospital and tree', 'confused jungle sphinx' and 'clown diving board'. As you can see random doesn't quite cover it, and I'm not sure everyone can count to three either!
After the builds were complete it was time to announce the winners of the earlier guessing game, and let them choose their prizes, and James gave us the answers and points each person scored all together. The top prize went to Mark from Brick Alley who chose a great Creator 3in1 set, Joe (that's me!) came second and picked the LEGO movie set (it has a dinosaur!) and Richard came in third and took the Hiddenside set. Emily also chose Alan as her winner of the random build and he took away the final prize.
All in all a very fun afternoon with a great quantity of building going on, I won't speak on the quality, and some great LEGO chat with some new people. Thanks go to Brick Alley for letting our guys host your meet and hopefully in the future we'll meet a few of you in person at actual shows and not just in the online world!