Earlier this year, I interviewed Krzysztof Kwiatkowski regarding his LEGO Technic Gravedigger monster truck MOC. Presented below is the complete interview:
Hi Krzysztof, introduce yourself! Where are you from, how old are you and what do you do?
Krzysztof aka KAKwiatkowski aka BadIdeasPoorlyExecuted. 25 years and 11 months old at the date of writing this. Originally from Poland, for the past 8 years I have been enjoying living in Wales. Professionally, a legal advisor for a local authority (curiously over the border – in England!)
Tell us when, and how, did you get into LEGO as an adult or has it been a life-long interest?
I had a few sets as a kid, but with me entering my teenage years and going to a boarding school when I was 15 I lost touch with my bricks. Nearing the end of my degree (shoutout to Swansea University!) after one lot of particularly tiring exams, I was grocery shopping and seen a very nice looking white small Technic set (42032) and my now fiancée bought it for me. After having built it, I loved the incorporation of levers and shovel tilt in such a small model.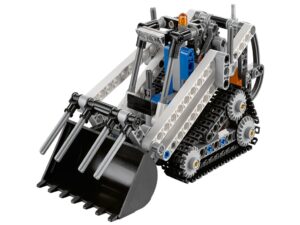 A few months later we were visiting her brother in Warsaw (Poland) who as it turned out was also an AFOL and we went to a local LEGO Shop. This is where I have seen the first Monster Truck released in the Technic line – model 42005 (already retired at the time). Being a fan of Monster Trucks since I was old enough to watch TV I have naturally bought one on eBay the day we returned home. This is such a great set for me – as a model and parts-wise that I have bought probably 5 since, the last one this past Wednesday. They are getting harder and harder to find though…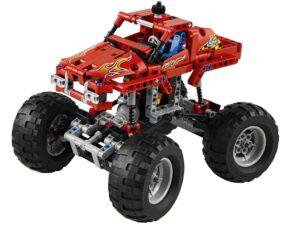 What made you go down the Technic and remote-control routes?
For as long as I can remember I was drawn to mechanisms of different nature, technical data, tables, graphs etc (NERD alert!) and as my return after Dark Ages has been Technic based, I have only expanded on that. Having said that, I am trying to expand my building abilities onto system, as system bricks allow for far greater detail in terms of shapes and offer more colours which is of great use for exterior of models.
As to the remote-control route, it was the Gravedigger MOC itself. Having bought the first 42005 I already knew I want to build my favourite Monster Truck – the Gravedigger. While building the set I covered the instructions with sticky notes on the changes necessary to make it happen. Over time new sets were released, with new elements which allowed me to adjust my initial idea. Firstly, it was the 42054 which introduces a huge amount of lime Technic pieces and the enormous tractor tread tyres – as close as you can get to a Monster Truck tyre in LEGO Technic. Obviously 'buy now'. As this set came with a motor to control some of the functions, I thought that it would be even better if I could use motors in my Gravedigger. Ever since my first test drive in a backyard in Cardiff I decided that all my vehicle models will be RC, if the scale allows.
It is so satisfying to design, test, re-design & improve the model to get reliable remote-controlled motion and the performance you were hoping for.
What other LEGO interests you? Do you collect Brickheadz, horde vintage knights or have a beautiful display of Friends sets?
Together with my fiancée we collect Harry Potter Brickheadz, and I collect minifigures relating to animated series and movies which I loved since I was a little kid. That is why I have a big collection of Toy Story and The Simpsons minifigures. I am also trying to have a complete collection of LEGO Technic figures, which are one the best things that happened to LEGO in my opinion. I even made a custom replica of the best driver in the world – the STIG as a LEGO Technic figure.
Moving on to the main story today, what is the Gravedigger and how long have you been working on it?
Gravedigger is a Monster Truck. A Monster Truck is a rare species of a truck with over-sized wheels native to the United States of America. They are best known for providing mass entertainment by racing, crushing recently scrapped cars, donutin' and making wheelies. They have over time expanded its habitat to Canada and possibly Mexico. In recent years, this species has presented a migratory patter to Europe for a once a year Monster Jam World Tour series, which is where I have seen it live for the first time. On the next event I will attend I hope to show my model to the Gravedigger team.
Gravedigger is not the first Monster Truck (Bigfoot is), but in my opinion it is the most important one. Thanks to the Gravedigger and the original driver, Dennis Anderson, we can enjoy fans favourite event at a Monster Jam Race – Freestyle. Freestyle is a time limited performance on the prepared arena with one goal in mind – to entertain the spectators to the highest extent possible using your Monster Truck. As of 2019, I believe, the audience can score the runs of each Monster Truck and these scores weigh equally with the judges' scores for the event.
My model is a fully remote-controlled scale replica of the monster truck which preserves both the functions and the performance of the real thing. It also features stickers with a LEGO spin on the Gravedigger livery – a huge thanks here to a fellow GertLUGger, Ben, who did an amazing job designing them.
Tell us some facts and detail about it's construction, for the Technic nerds out there as I won't understand any of it!
Gravedigger, as every Monster Truck, is suspended on live axles with extremely long travel.
In the model, this is achieved using a 4 link suspension with the shock absorbers being placed horizontally in the chassis. This allows for over 11 studs of travel of suspension. The link arm is mounted on a tow ball which connects to a liftarm mounted on a Servo motor. This allows for a regulation of the wheelbase and the height of the suspension between three setups (high, mid and low), which can bring the model closer to the specification of Monster Trucks which debuted in 2019 and 2020 with significantly lower and longer wheelbase, designed more for the racing element of the events. With a simple swap it is also possible to achieve 5 different height and wheelbase combinations too!
To preserve the lime chassis look I had to source 8 link arms in this colour, which was quite a challenge as the link arm in this colour only appeared in one set in 2000 and only one per set!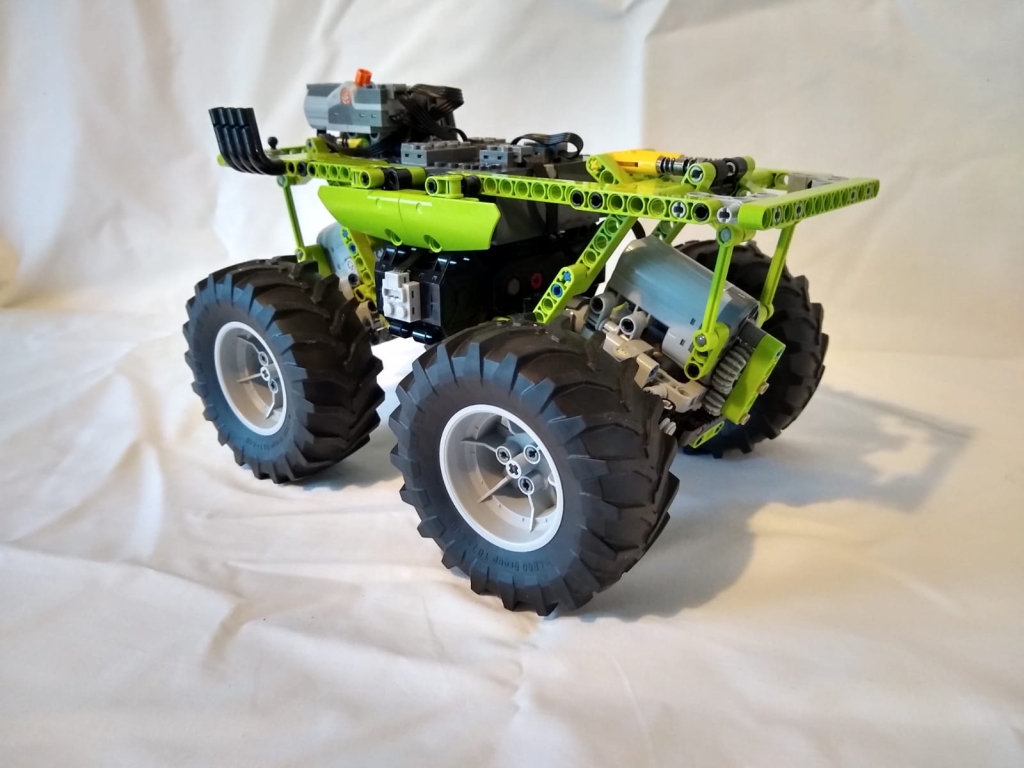 The model features 5 motors in total allowing the below functions:
2 buggy motors mounted in the middle of the chassis, which is true to the centrally mounted supercharged V8 engine of the original for drive at speeds suiting the Gravedigger
2 Power Functions Servo motors for steering
Medium Power Functions connected to a Power Functions Switch which control the three steering modes:

conventional two-wheel steering;
four-wheel steering; and
crab stering.
The model is powered by two BuWizz 2.0 units for optimal power to weight ratio with a readily available solution.
The performance result is more than satisfactory:
Gravedigger easily runs over cars of scale of the 42093, 42098 and 42123 (which there is plenty of on Rebrickable to build), does great donuts with lifting the front inner wheel of the donut and does wheelies! The wheelies where the biggest surprise for me, as I believed the model would be too heavy for that.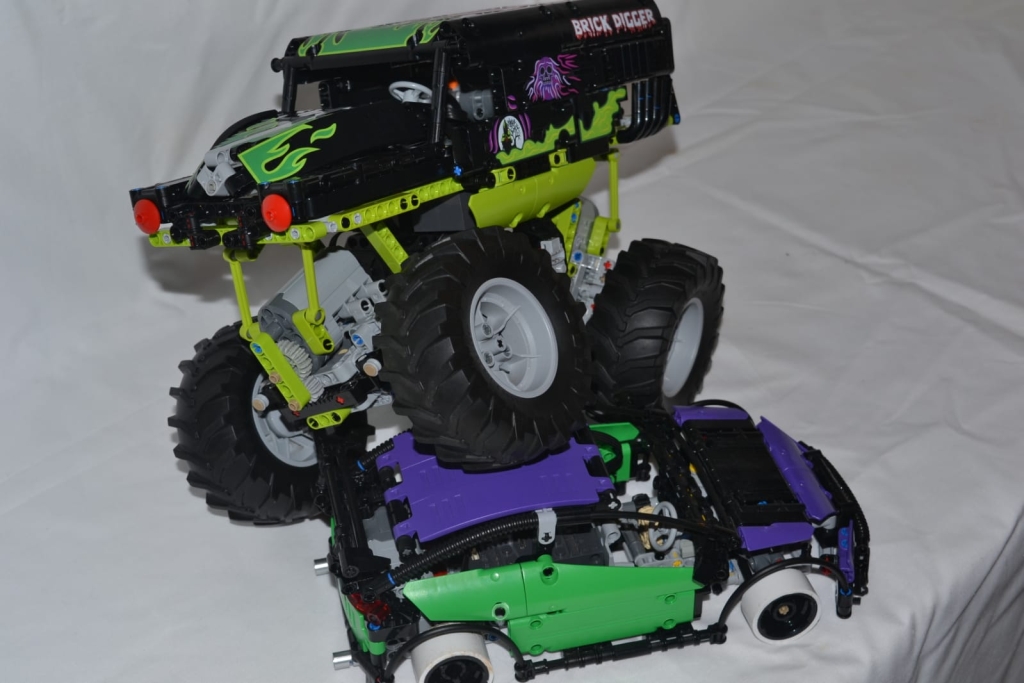 The model has been designed as a base for any Monster Truck. Therefore, the chassis can be built in different colours and the body is easily detachable.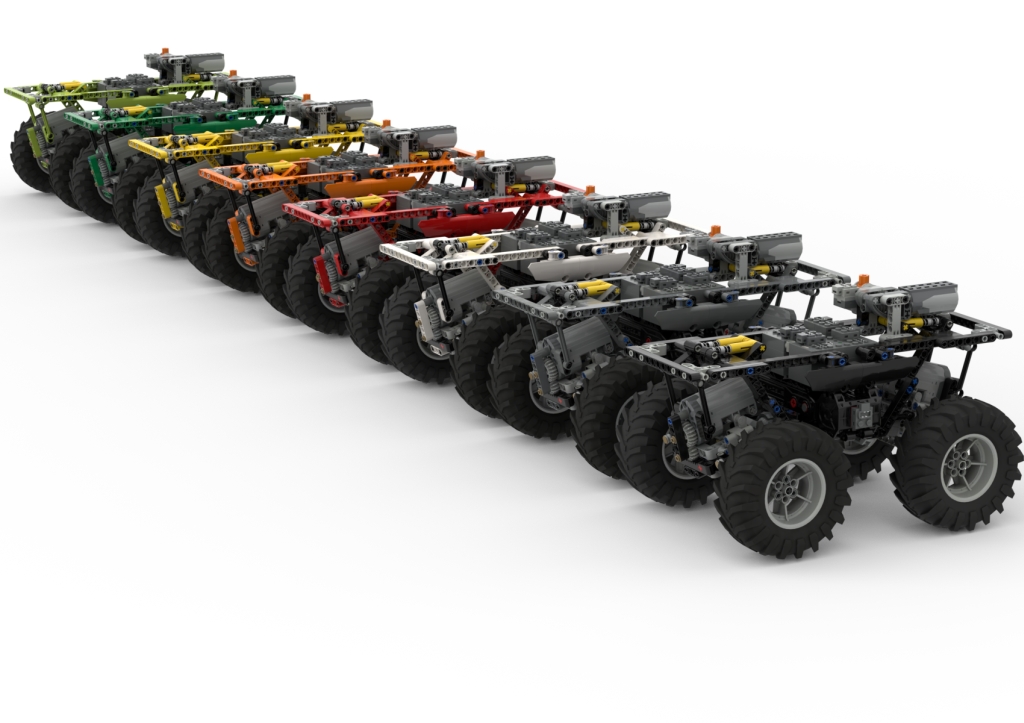 It looks like it's based loosely on 42118 Monster Jam Grave Digger but I'm guessing there are very few of the original parts from that set left now, is that right?
It actually is not. This model has been in design since 2013 and been published before the release of the 42118 set. I suppose they share some common elements (as all Technic models do), but they are very different in scale, as the wheel of my Gravedigger is bigger than the whole 42118 set 🙂
Have you been able to take it to any shows yet in the real world or even online?
Not in the final revised version. I did present previous versions on the first and second Bristol Brick Shows, where they were a huge success. Since then I have rebuilt it almost completely and cannot wait to show it to a wider real life audience now.
I see from your YouTube video that it can wheelie! Have you made a full off-road course to test its full abilities yet and if you get to do shows this year will you be bringing a set-up with you to show it off?
I have an off-road course, but is suited more for crawlers, as it is very steep and narrow. GraveDigger will shine on flat surfaces with obstacles there, which I intend to prepare for all the shows I will attend.
I am also preparing a modular brick built off-road track on baseplates, but this is aimed for smaller vehicles (also in development now).
I see you've made the instructions available on Rebrickable. You have a number of sets on there, have you had good feedback and is it nice to know that people around the world might be building and enjoying your designs?
The feedback has been overwhelmingly positive, especially to my alternative builds of the 42099 set with some people saying even that they are better than the official set, which I consider the highest praise possible.
It is very nice to know that people enjoy my designs. One of my favourite things is, when someone builds my creation, but with modifications to their taste, making it their own as well.
Your Gravedigger looks pretty complete so have you started something new yet, what's the next project you have in mind?
I do not have any new projects in mind. I have specifically prohibited myself from thinking of new projects before I will finish the current ones.
Two of the projects which may be most interesting are: a remotely controlled drag racer which will combine a buggy motor and two pullback motors for additional boost when driving and a Ukrainian off-road & amphibious vehicle which is capable of swimming, being remotely controlled and not using a single electric motor!
You can see all of my up to date creations and progress of ongoing projects here:
https://rebrickable.com/users/KAKwiatkowski/mocs/
https://www.youtube.com/channel/UCqYhHbcqcWICCfKOaBehseA
https://www.facebook.com/BadIdeasPoorlyExecuted
Thanks for your time Krzysztof, hopefully we'll see you and your machines at physical GertLUG meets again soon!