March 16th, 2020, somewhere in the UK (in-fact, many different places in the UK at the same time).
So, something a little bit different happened for our March online member's meet. Firstly, there were two of them (the write-up for the 2nd will appear shortly). But secondly, and more importantly, the first meet was hosted by Richard (otherwise known as Bricks McGee) from Brick Alley LUG.
For anyone who doesn't already know him, Richard is Chair of Brick Alley LUG (based in the North East of England) and as Bricks McGee he also builds one off LEGO commissions for museums, schools and other cultural venues and also runs LEGO workshops for schools, museums and even corporate team-building workshops. As such it's fair to say he is certainly qualified and experienced enough to run one of our meets and we were grateful to him for offering to do so!
With around 50 LUG members present (in a near 50/50 split of GertLUG and Brick Alley members) the meet started with some quick introductions and a general question of "what is your favourite theme". The usual themes came up with Harry Potter, brickheadz, LEGO cars, modular builds alongside Monkie Kid, your own MOCs and the very broad "anything by LEGO" also being mentioned.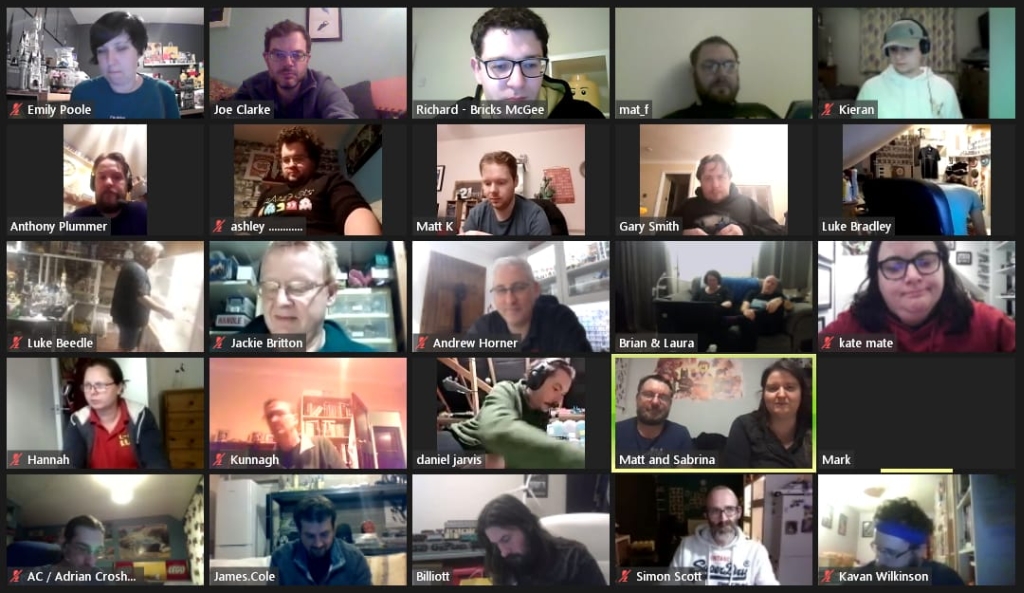 Movng on to the first build challenge we were given 15 minutes to make a single hybrid animal with clear characteristics of two separate species. After some focused building over-layed with some general LEGO chat we showed our model and the guesses (some accurate, some less so!) were placed using the chat function. The first model of a LEGO shark balanced on a LEGO crocodile was a bit of a cheat, however following that were the Tigerfrog, GertLUG secretary James Cole's huge Hippogiraffe and Kunnagh's impressive Kangarhino.
After this came the model spotlight, something Brick Alley do every meet, with Matt Kirby stepping into the light with his fantastic MOC Eisley build (based on Mos Eisley the famous Tatooine space port in Star Wars). With modern city elements like the LEGO store and McDonalds seamlessly blended into the Star Wars style and a cantina full of surprising characters (Wolverine!) you could see that this build, started in 2016, had taken a lot of time, thought and skill to produce.
Continuing the Star Wars theme we had a look at Kieran's lightly Modded Star Destroyer. Not happy with the finer details of this huge set he had added and improved on various elements including a rebuilt bridge and heavily altered back end and engines.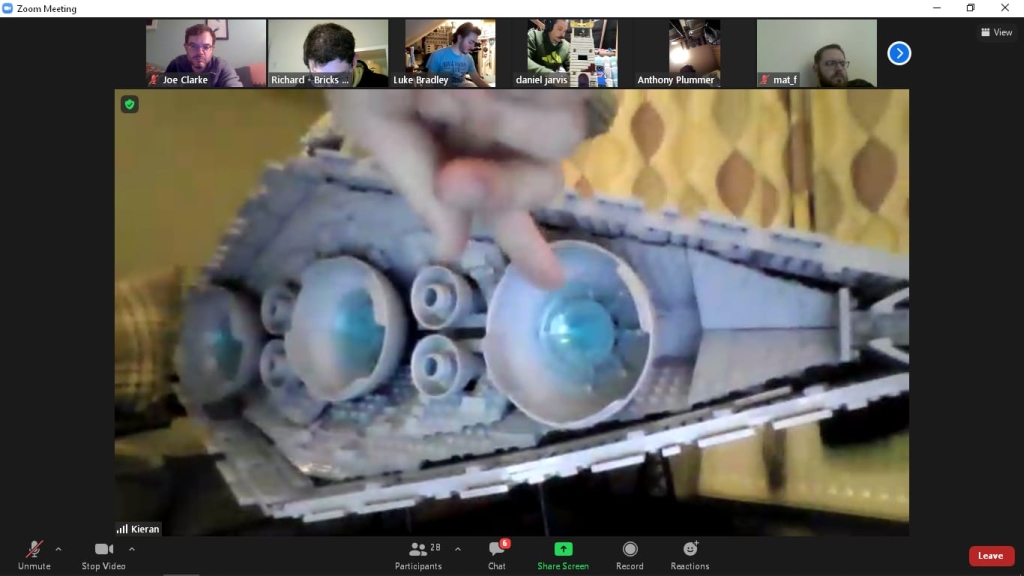 We then moved on to our second build challenge whereby we each had to build a puppet, of whatever sort came to mind, and in break-out rooms of 4-5 people we were asked to devise a play on the theme of 'Cabin fever' to show-off to the rest of the meet. After 15 minutes of LUGBulk, and other LEGO chat, and some mild panic we returned to the main room and the fun began...
Group one had some mad 'cabin fever' music alongside some equally mad models, group two had an amusing (and accurate) puppet of Bricks Mcgee himself, group three had a desert island theme narrated by new GertLUGger Jackie, fourth was a masterful display of two brilliant puppets (flappy bird and lion) by Kunnagh and Simon and group five finished in style with a mad cap play featuring our own ambassador and social secretaries. With mention of "disturbing scenes" and "confusing plots" Richard still managed to choose a winner and went with the excellent group four who certainly produced the best models in the short time available.
The final build of the evening was a straight forward challenge to build the tallest free-standing tower you can with the proviso that no two neighbouring or connected parts can match in colour. The impressive heights reached in 10 minutes ranged from 49cm to the lofty wining heights of 148cm!
All in all a well attended and very enjoyable meet hosted with great aplomb by Richard and it was brilliant to see some of our regular GertLUG faces mixing with the unknown Northerners!
Huge thanks to Brick Alley for the idea and to their members for joining us and making it all so Awesome! You can find them easily on Facebook or head to the Brick Alley website at brickalleylug.co.uk to find out more about them.
Not covered during the meet up were the entries into this month's build challenge, with the entries being voted on in the GertLUG member's Facebook group. The theme this time round was 'escape', with photos of the entries shown below.