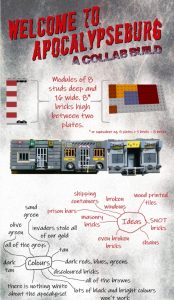 The first collaborative build that GertLUG members took part in was tied in with the release of The LEGO® Movie 2: The Second Part and the release of the LEGO sets that went with the film.
The poster created by GertLUG Social Secretary, Hannah, gives the standard sizes to follow for each module that can be combined to create the collaborative display. There's also a few ideas and suggestions on part and colour usage.
The main Welcome to Apocalypseburg collaborative build was displayed at the Bristol Brick Show in November 2019, however the modular nature of the collab build means that different combinations of modules could also be displayed at a number of other shows and events, no matter how many or few modules were available at the time.
If you have a go at building a module following this theme remember; there's nothing white about the apocalypse!
Below are a number of photos showing how the Apocalypseburg collaborative build looked during the Brick Express event at the Avon Valley Railway on the 2nd of June 2019.
To get a better view of some of the details from the collaborative build as it appeared at the Brick Express event, we have permission to share a video interview with Hannah that was fimed during the event by Captain Mutant.
Apocalypseburg also made an appearance at the Cotswold Bricks and Trains Weekend on the 10th and 11th of August 2019, as seen in the photos below supplied by Emily.
This final collection of photos show the Welcome to Apocalypseburg collaborative build when it was displayed at the Bristol Brick Show on the 16th and 17th of November 2019 where there were more than 30 contributors.
Once again, Hannah was able to give an interview to Captain Mutant during the Bristol Brick Show, exploring more of the details of the largest iteration of the display.
Thanks go to Capatin Mutant for allowing us to use his videos to share with everyone how the collaborative build developed during 2019 from it's first showing at the Avon Valley Railway in June to the display at the Bristol Brick Show in November. You can check out more videos from Captain Mutant including other interviews from both shows on his website by clicking here.