The first collaborative build that GertLUG members are taking part in ties in with The LEGO Movie 2: The Second Part, which was released earlier this year and is titled Welcome to Apocalypseburg. The poster shown below created by GertLUG Social Secretary, Hannah, gives the standard sizes to follow for each module that will be combined to create the collaborative display. There's also a few ideas and suggestions on part and colour usage.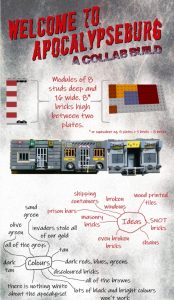 Our aim is for as many people to build modules to be combined into a large display at the Bristol Brick Show in November 2019, however the modular nature of the collab build means that different combinations of modules can be displayed at a number of shows and events.
With this in mind, some of these modules will be on display at the Brick Express event at the Avon Valley Railway, which is being held this Sunday on the 2nd of June. For more information about the Brick Express event and to book tickets for the trains, please visit the Avon Valley Railway's website by clicking here.