There's just two more weeks to go until our first event at the Avon Valley Railway featuring LEGO® bricks, which is being held on Sunday the 2nd of June!
While the Brick Express travels along the tracks of the Avon Valley Railway, there will be a number of displays of LEGO® models built by members of GertLUG at Bitton station. We're looking forward to this first event at the railway and will be working hard to get the models that will be on display ready.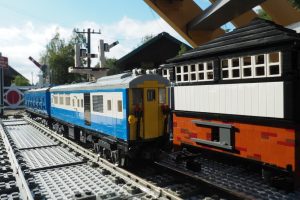 A small sample of one of the displays is shown in the above photo, which is part of an operational display depicting Romsey Signal Box, complete with working signals, built by Stuart Jones.
For more information about the Brick Express event and to book tickets for the trains, please visit the Avon Valley Railway's website by clicking here. We hope to see plenty of people enjoying this first Brick Express event at Bitton!