Periodically we shall feature models built by GertLUG members using LEGO® bricks to display some of the creativity of our group and hopefully inspire people with what can be made using the little plastic components. A model created by a fan of LEGO® that isn't available to buy as a LEGO® set is usually known by the acronym MOC, which stands for My Own Creation. Keep an eye on the events page of the GertLUG website to see where you may be able to see MOCs from our members in person.
This month's featured MOC is an 8 stud by 8 stud vignette showing a minifigure sized GertLUG webmaster sitting at his desk working away at setting up the new GertLUG website.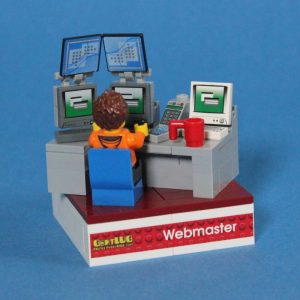 Once the website is fully up and running, you can expect to see some more impressive looking models from our members and we look forward to seeing some of you at the various shows and events we'll be displaying at.