While our 2022 Collaborative Build - Pirate Cove is still ongoing, parts of which have been displayed at a few events during the first half of the year, we have already been planning the 2023 GertLUG Collaborative Build! The Pirate Cove Collaborative Build page of the GertLUG website contains some photos of the display during Bristol Comic Con And Gaming Festival in March and at the Brick Express event held at the Avon Valley Railway in May. To see the final Pirate Cove display in it's biggest form, with as many contributions as we can get from the GertLUG membership, you will have to come along to the Bristol Brick Show in November 2022.
The main reason for this blog post though, is to tell you all about our plans for 2023.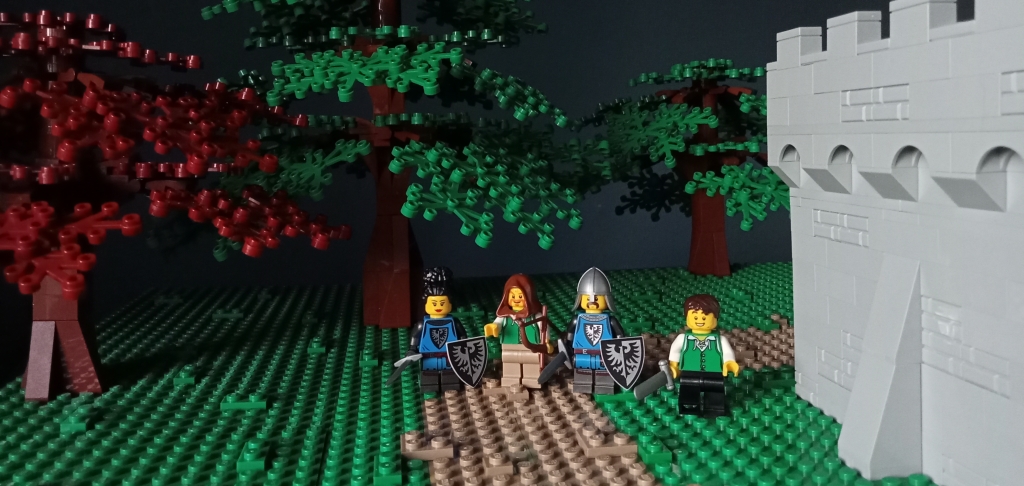 Welcome to the city of 'Anfloc'. This medieval city is in an important trading area and is surrounded by a wall for protection in case of attack. Within the walls are various homes, shops and other buildings with visitors from many places in the land. Outside, on the road to the city are travellers, bandits and other people of the forest.
Inspired by the various castle themed sets that were available in the 1980s and 1990s, along with the return of the Back Falcon knight figures in more recent Creator and LEGO Ideas sets, we intend to create a large display featuring part of a medieval walled city with some forestmen and other characters amongst the trees outside.
Each builder will have the opportunity to build something that fits within the medieval / LEGO Castle theme along with some ground cover and landscaping to make an epic display. To assist with model stability, landscaping options and continuity, the ground surface will be built using a standardised system as a base. On top of this, we will need castle style city walls, roads and pathways, trees and bushes, and various buildings and market stalls. Some forestmen builds can be included alongside the roads outside the city with some travellers with horses and carts making their way to and from the city gates.
Throughout the building process, we plan to provide participants with ideas and inspiration and encourage ongoing discussion between contributors as the build evolves. For a little more information on what we are planning for the 2023 Collaborative Build, visit the Anfloc City – Medieval / Castle Collab Build page of the GertLUG website by clicking here.