On Sunday July 11th a number of GertLUG members will be displaying their builds at Bristol Comic Con and Gaming Festival, held at Ashton Gate stadium. This is the second GertLUG displaying opportunity of the year and so to tie in with it we've got a great interview with one of our newer members Tom Woodman who specialises in creating custom Brickheadz models.
Read all about his LEGO journey below and if you want to see his and other Comic Con appropriate displays, as well as numerous people dressed as Superheros and Anime characters, then come along to Bristol Comic Con next weekend. We hope to see some of you there!
Hi Thomas, let's start with a quick intro – How old are you, where are you from and when did you join GertLUG?
I'm Tom, I'm 28 years old and from Swindon but I now live in Chippenham. I joined Gertlug in January of this year (2021) and I couldn't have found a more lovely bunch of people/minifigures. 
What's your background with LEGO, have you always been a fan or is it something you've come back to more recently as an adult?
I've been into LEGO since I was around 6 years old, I never really remember having Duplo, I just went straight for the original recipe LEGO Bricks. I had a 'Dark Age' from around age 14 to 18 where I just lost interest really, forgot LEGO even existed to be honest, then when I saw the older UCS Millennium Falcon for ridiculous money on eBay and jokingly said to my mum I wanted it for Christmas very surprisingly she got me one, although it was actually the 'smaller' 7965 Millennium Falcon from 2011. I really enjoyed building it, and put it on a shelf, and a few months later I went to the local Toys'R'Us (R.I.P) to get my nephew's birthday present but the layout of the shop made me go through the LEGO aisle and I saw the sets 9492 Tie Fighter, 9493 X-Wing Star fighter and 9495 Gold Leaders Y-Wing Star Fighter. I fell in love with those designs and bought all three for myself, and it's been a slippery slope from there!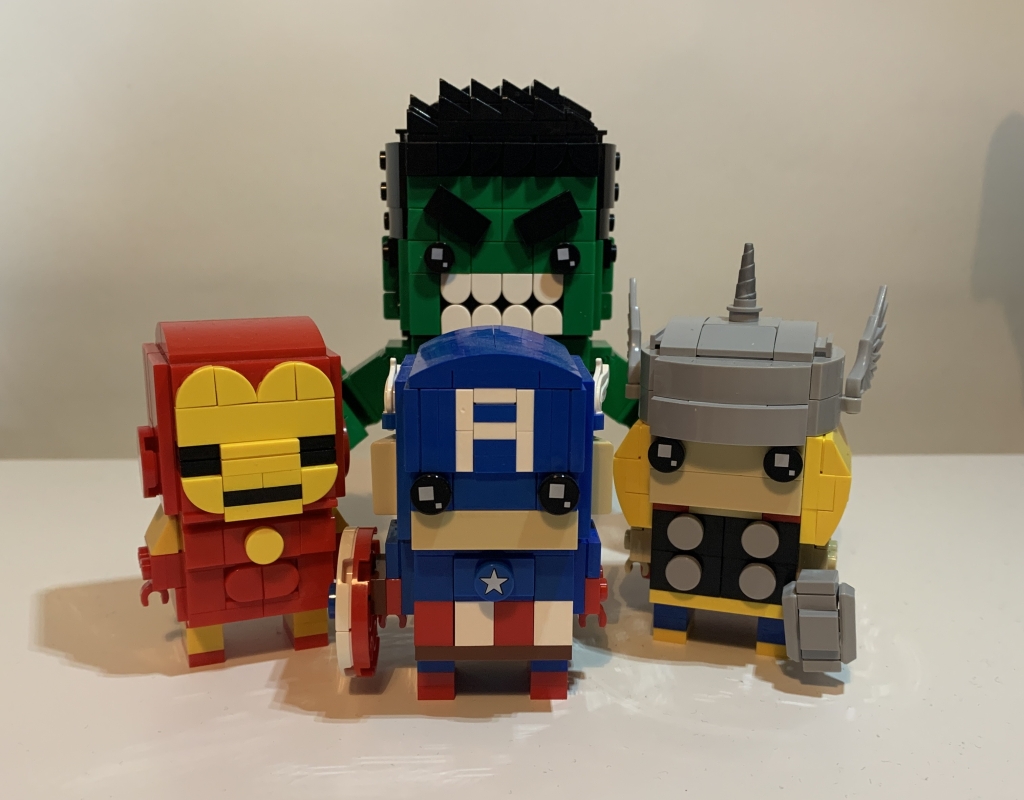 Before we get into your MOCs do you have any other LEGO interests or themes you particularly collect or create MOCs around?
I'm very much into the latest run of Harry Potter sets, which are incredible compared to the older ones, of which I have a few. The revamp of the series hasn't been too kind on my wallet but I would say 95% of them I have. I'm also into the recent helmet series for the Star Wars line along with the UCS Star Wars set. The Simpsons was a great short lived line which I wish had more sets and the IDEAs sets recently have been really hitting it out of the park. Those are my main themes but I'll buy anything really!
We know from your posts on our Facebook page that you're mainly a Brickheadz man, do you have a vast collection of LEGO's own Brickhead sets alongside your own MOCs?
Surprisingly I don't have many. I think I have only some of the seasonal ones, the Harry Potter ones and the Mandolorian one, not too many overall. When they were first revealed I didn't really like the look of them but then the Harry Potter ones came out, which I had to get, and I realised there was more to them than I first thought. I like how much detail can be put into something so small. 
 When did you decide to create your first MOChead, which character did you choose and what made you choose them?
At the start of lockdown I was unemployed for a month, and was doing nothing, so I was sorting through my unfinished endless studio files and seeing what I could finish. After that bored me I started scrolling through Instagram just looking through MOCs and came across a Freddie Mercury Brickheadz. As I had very recently watched the film Bohemian Rhapsody I thought yeah, I'll give that a go.
My first one will never see the light of day it was that terrible but I made a second one which is on my Instagram (check it out and give my page a follow too if you like!) and just really enjoyed it. As it was the first MOC that I actually finished I felt very proud of myself as I'd bought the parts and it was buildable. So, I thought I'd make more and it snow-balled again (things getting out of control concerning LEGO is a running theme for me!) as I learnt a few techniques to better my builds and from January this year I updated a few and I've had an overwhelming positive response from the LEGO community for them. I love making them as each character has their own set of challenges, and I love how much detail you can cram into such a small model. My fiancée told me I should make instructions and sell them so that became a thing too, I never got into making them for money but it makes a very small amount so it's a perk I guess!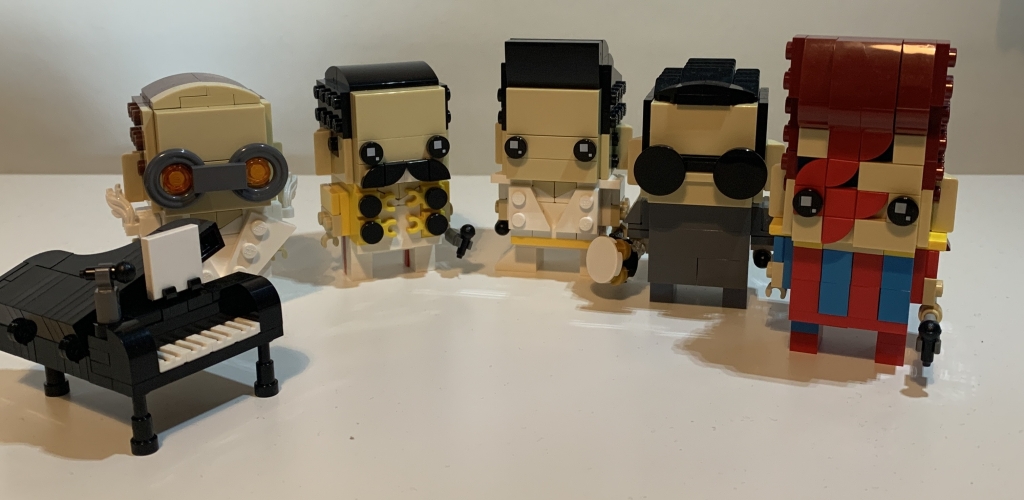 Were you happy with the first one straight away, and did you immediately get the bug and want to do more?
Not entirely but the second iteration was okay then the third was bang on, I don't think I've ever posted first attempts, as they looked atrocious but as soon as I finished the first one I found it hard to stop and the more I made the easier it got for me. Eventually it turned the question from 'how can I make that character?' into one of 'when can I make that character!'.
 How many MOCheadz have you completed so far? Give us a run down of some of your favourites.
I have an 'official list' so far of 300, a few are still in the making. But I'm not rushing them, I want each one to have instructions available when they are posted on my Instagram (again go and give it a follow, it's a great page) and I have a strict policy of only using bricks that actually exist in the correct colour and using no illegal techniques. 
Have you had the chance to display them anywhere yet or will the Upcoming Bristol Comic Con (That GertLUG are displaying at) be your first chance to show them off in public?
I've not displayed yet only been on Instagram (by the way have you checked out my Instagram yet?) but my first show will be the Brick Express at the Avon Valley Railway on the 5/6th of June, I'm very excited and nervous as it's my first but I'm sure I'll be a pro by Comic Con! (Editor's Note: Tom has displayed at Avon Valley since this was written and they were very well received!)
Are you working on new MOCs for this year and the upcoming shows, can we get a sneak peak or some leaked information on which characters you're doing?
I'm working on a Pixar Superhero team which I really enjoyed making however they are only digital at the moment and I'm trying to get the parts for the Comic Con show, fingers crossed! 

Are there any cartoons or other themes you've not made a MOChead for yet that you would love to for the future? Perhaps something from your childhood. For me it would have to be characters from Thundercats, M.A.S.K or Danger Mouse! (I feel Penfold would work well in particular and I was told I looked like him as a child)
I've had so many suggestions that I had to buy a notebook to write them down in! I love the more obscure suggestions, for example I've been asked to make Teletubbies, Biker Mice From Mars and even Galidor (famously the worst LEGO theme ever, and yes I have every set they made) but even just bulking out the themes I have with more characters is a brilliant way of making more as there is always another character to make. 
 Anything else you'd like to add before we finish. Any website or social media you want to share so people can see your ideas:
Well I'm not sure if I've mentioned but I have an Instagram account @wizard_bricks 
And an Etsy shop @WizardBricks
They are the main places I can show off my builds, all my designs are for sale via the Etsy shop but if you just want a look then Instagram is where to go! (Give it a follow if you like, I mean if you want, it's up to you....)
Thanks for your time Thomas and we look forward to seeing you at the upcoming Comic Con (Sunday 11th July everyone!) and at other GertLUG events in the future!