Hello LEGO Fans!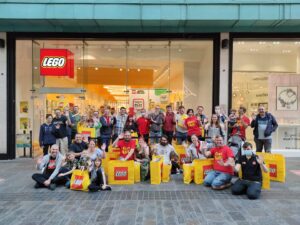 After well over a year of no LEGO shows and following our two fantastic shows this year already (at Avon Valley Railway and Bristol Comic Con and Gaming Festival respectively) we are thrilled to be hosting our biggest show this year, and the largest show you'll see in Bristol in 2021, at The Galleries shopping centre this weekend coming.
Over the weekend of Sat 21st to Sun 22nd August GertLUG will be displaying right through the middle of the lower floor of The Galleries in Bristol Shopping Quarter and the best thing of all is that it's FREE!
Simply wander in and marvel at the displays including Minecraft, Star Wars, Pirates, Remote control cars and even Great Ball Contraptions. There will also be chances to win LEGO to take away with you!
Here's a press release from Bristol Shopping Quarter who are excited to be hosting us!
The Galleries opening times are below and the LEGO will be there the whole weekend!:
9am - 6pm on Saturday 21st August
10am - 5pm on Sunday 22nd August
The show is all in aid of the Pahar Trust who provide education, healthcare and sanitation to remote areas of Nepal where some of the world's poorest children live. Find out more about their great work at their website:
Below are some pictures from our recent events to give you a taste of what you may get to see, each model contains thousands of bricks, masses of creativity and some Master building skills! Come and be inspired, be amazed and perhaps even join the group!
GertLUG are very friendly, active and happy to help anyone who wants to add to their LEGO Collection, learn how to build their own models or simply chat, swap and share LEGO with a growing group (150 members and counting) of like-minded people. We look forward to seeing you all at the weekend and if you want to know more about GertLUG just look out for the BOLD red and yellow T-shirts and we'll be more than happy to stop for a chat. Or look us up on Facebook and we can start your LEGO obsession there instead!