February the 16th saw us enjoy our second meet-up of the year with a delightful 15 member romantic (well, perhaps not) online Zoom chat hosted by our Chair, PK. Before the meet, and with a hint of Valentine flavour, members had been asked to build something flower, vase or plant themed with all entries posted on our Facebook page, voted for and the winner receiving a LEGO prize. Photos of these entries are shown below.
Back in the meet, and after some quick 'hellos' and gossip, the Valentine challenge was echoed by our first build test of the evening. Split off into 4 break-out rooms we were asked to build something floral, foliage or Spring related whilst chatting with our fellow AFOLs. After a bit of chat and build time we rejoined the main room to show off our quick creations and all of the floral brilliance can be seen in the screenshot below (thanks to Hannah for all of the following pictures from during the meet-up).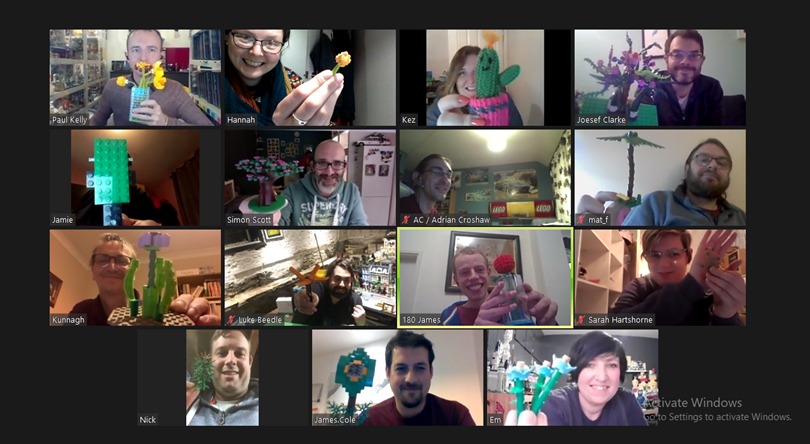 Moving straight onto the next build challenge we were again split into 4 rooms, with different people this time (a bit like LEGO speed dating), and were asked to build something you might find in a kitchen, bathroom, living-room or bedroom respectively. Following 5 minutes or so of build time we rejoined the main group to play 'guess the item' using the chat function to post our guesses, and avoid the chaos of 15 people shouting over each other!
Some of the creations included an inspired and bizarre seafood kitchen, a cheeky looking egg, toilet complete with basketball hoop, a poo with a tail, a classy armchair (well someone had to bring the level back up) and a couple of beds (one of the water variety). Stealing the show this time was our newest member, Kunnagh, with his fantastic light-up fridge! With the many correct guesses interspersed with some truly strange and humorous replies it made for a very entertaining game.
Sticking together for a bit we had some general chat alongside some discussion about ideas that people would like to see LEGO implement in the future. The first idea mooted was levitating LEGO, perhaps even customisable LEGO drones that could become spaceships or dragons. This then moved on to everyone's thoughts and support for a Nightmare Before Christmas set, which by pure coincidence our member, Simon Scott, has already designed (and reached 10,000 supporters on LEGO Ideas, congratulations Simon!).
Whilst chatting we had also been asked to build, from whatever bricks we had to hand, anything that you might expect to find in a garage. These builds were shown one by one and guessed very vocally and included multiple variations on the workbench theme, some bikes (a customised motorbike among them), hoverboards, spiderwebs and from Maya, our youngest builder present, a brilliant Segway!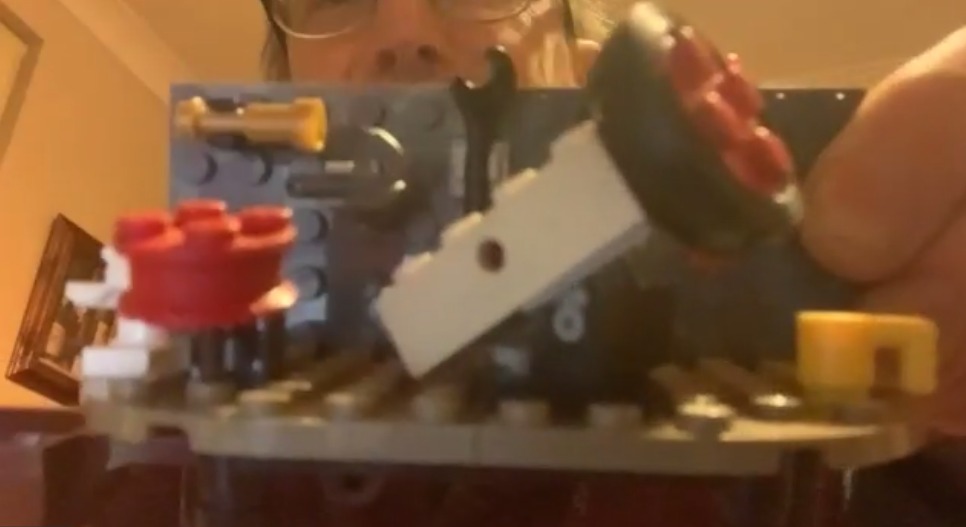 We also had a peek inside the real-life garages of a couple of our members with current GertLUG secretary, James, showing his enormous (and ever expanding) Endor MOC whilst our ex-secretary, Paul, showed off his own recreation of Berkeley railway station which he built from just a few old postcard images, as the real thing was demolished around 50 years ago.
We moved on from garages to basements with a quick look at Luke Herridge's new layout focused on a large modular town display with numerous minifigure displays and other goodies lurking in the background, and seemingly much more to be added yet.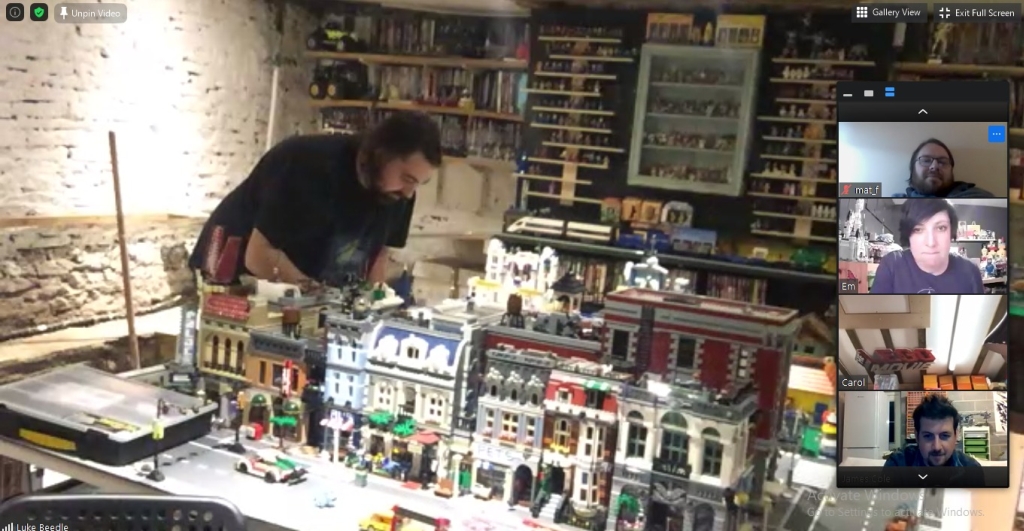 Another enjoyable meet and a great chance to catch up with familiar and new faces alike, show off our skills (or lack-of) in the quick building department and generally chat all things LEGO. Hopefully the physical meets in the pub are no longer too far in the future but for now the online world is serving us well and gives a lot of scope for fun and for everyone to be involved; care to join us in March?