Saturday the 19th of December 2020 saw the annual GertLUG Christmas party occur. However, this was not just any old physical 'real-life' party but perhaps the greatest Virtual LEGO themed Bristol-based Christmas party the world has ever seen!
Now, as you can imagine, this year things were a little bit different, a touch more '2020' you could say. As a group we couldn't meet in a pub like last year and shake hands, hug and swap grubby LEGO from one person to another. Instead we stuck to the current Covid guidelines and held an online party with special gift packages prepared and sent out to every attendee in advance of the event, thanks to our excellent Social Secretaries Hannah and Emily.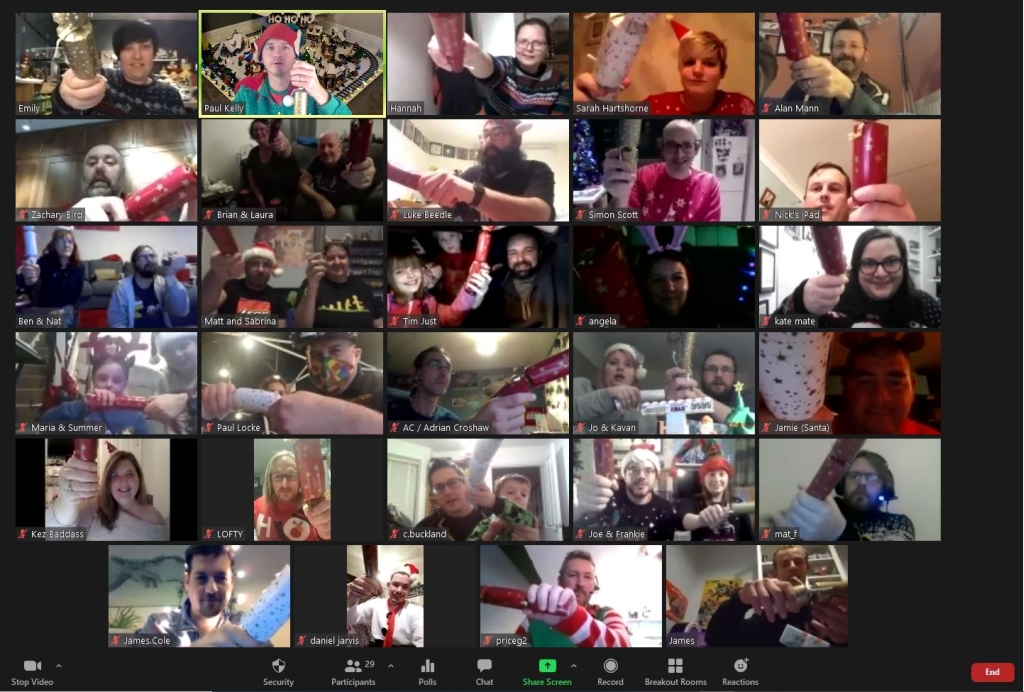 GertLUG have a well established online presence and this being our 10th virtual meet of the year everything ran smoothly from the off, this time around with a record 38 attendees! To kick things off we quickly went round each member to see what was top of their Christmas wish list this year. As expected LEGO ruled the day with some great sets mentioned including The Pirates of Barracuda Bay, Diagon Alley and the fantastic Treehouse. We were then split into separate breakout rooms of 5 or so members to open our surprise boxes (finding polybags, sweets and baubles filled with LEGO within) and also to have a chance to chat and meet new people.
With festive drinks at the ready we returned to the main room for a huge 38 person virtual cracker pull! Passing them through the screen at each other, a countdown from three and then with a (mostly silent due to being on mute!) bang we tore the crackers open and donned our Christmas hats ready for the rest of the fun. The first challenge to get us in the mood was a quick True or False LEGO quiz highlighting some of the amazing facts and huge numbers associated with the brand, as well as highlighting the poor guessing skills of many of our members.
Back to our smaller breakout groups again to chat with some new people and build Christmas decorations for the LEGO #Buildtogive campaign. Some of the brilliant finished articles can be seen in the pictures below, but suffice to say everything from Santa to snowmen and reindeer to Christmas trees was conjured up in no time before we rejoined the main room again for an epic speed build challenge. With polybags at the ready, courtesy of our mystery boxes, we raced to see who could build and unmute themselves to proclaim victory the quickest. Our winners were Dan, Simon and Sarah with their lightning fingers while the rest of us were reminded that speed building isn't our strong point! (Alcohol intake may have had some effect by this point).
After the pure adrenaline of the speed build it was a chance to open our 'Secret Santa' presents from our boxes and it's fair to say everyone went away happy! There were Brickheadz, 3 in 1 Creator sets and Star Wars LEGO galore alongside a couple of suitably seasonal Olaf the snowman sets. After a brief intermission we headed into some small build challenges with the rules relaxed and everything open to the individual's interpretation. We had some fantastic builds on the varied themes of cars, ideal Christmas dinners, ideal job and your perfect holiday. This created a great bit of positivity and also challenged people's skills to build on the spot with whatever they had to hand.
After another breakout room session to get some more #buildtogive decorations finished we all came back to the main room to share and show them off. This also gave us an opportunity to show off our Secret santa gifts opened earlier, and discuss the possibility of stealing your partners for those couples in the chat! The big raffle was next with the main prize being not one but two great sets; a 3 in 1 Creator townhouse AND the brilliant Ice-cream van. Everyone had a unique brick in their Christmas box and Emily did the honours of plucking one at random from her LEGO head (this sounds much weirder than it was). The very happy first prize winner was Nat with the second prize of the Camper van (with thanks to Hermioodles Hutt for gifting it) going to Angela soon after, with her mum immediately promising to have a go at building it!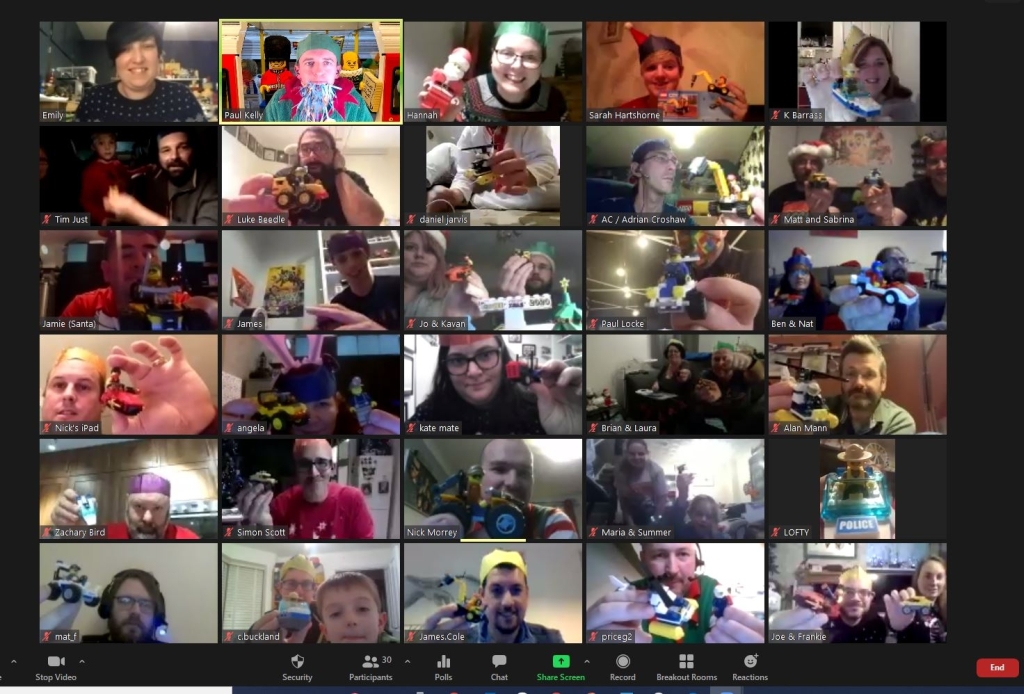 After that grand finish we began to wind down with festive vibes and general LEGO chit chat aplenty. 2020 has been a really challenging year for everyone and this 3 hour slice of Christmas cheer, LEGO building fun and enjoyable banter was just what we all needed. Despite the virtual nature of the meet, which actually made it more inclusive for those members further afield, it felt like we were in one room sharing the same games and atmosphere and it was a brilliant slice of escapism from the outside world.
We at GertLUG very much look forward to seeing people in person, at shows and proudly showing off their fantastic lockdown builds in 2021 but for now I'll let our valued members sum up the Christmas party in their own words:
"Very well organised ….and the goody bags were amazing"
"After Boris's announcement it felt like the best substitute for Christmas"
"Fantastic evening…over and beyond our expectations"
"Definitely the best virtual thingy I've been to!"
"The gift parcels were awesome and such a nice touch"
"It was obvious you had thought through and planned the event so thoughtfully to make sure everyone was included"
See you next year and MERRY CHRISTMAS!