As restrictions due to the coronavirus (COVID-19) continue to prevent physical meet ups, so too continue our virtual monthly meet ups. While waiting for people to join the meeting, those that were already there had a general chat about any LEGO related topics that came to mind. These included the latest Harry Potter Collectable Minifigures and recently released Diagon Alley set as well as the Super Mario sets.
When the meet up officially began, we all went round with a quick introduction of who we are and what our favourite theme is. It was interesting to hear the variety of themes we all had as favourites ranging from recent single wave themes to long lasting themes as well as past themes that are no longer in production.
General LEGO discussion continued on a number of subjects starting with where we usually buy our LEGO sets from and recent discounts at various stores. The conversation then moved on to what the last model we built was, which brought up the subject of the LEGO Hidden Side theme that is seemingly due to end with the current wave of sets.
James then told us about his section of road that he had built using a Modular Integrated Landscaping System (MILS) that was first established in 2011 by members of HispaBrick Magazine.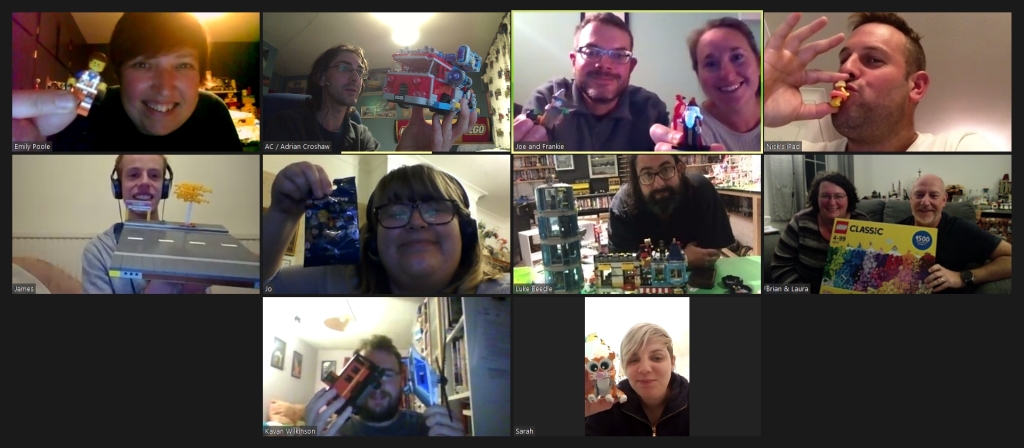 Then it was on to the activities, which this time round were very basic guessing games. First up was to guess which upturned mug Nick had hidden a minifigure under. Once the winners of that round were determined, the minifig and mugs were mixed up off camera and the previous winners guessed again. This process was then repeated with the winners of each round until only one person guessed correctly where the minifigure was hidden.
The second and third guessing games were to guess the correct quantity of LEGO bushes and 1 x 2 Brick Bricks that were in the bags Nick showed to the camera. The majority of the guesses were a long way off of the actual figures, which was surprising as to how little volume some parts can be made to fit into.
After these games were over, conversation returned to discussing our latest models before moving on to entire themes and other subjects. These included LEGO Friends and the return of the LEGO cards and collectors album to Sainsbury's stores. This being the third year that Sainsbury's have had this promotion, there were mixed opinions, but no doubt several of our members will be organising swaps with each other in the weeks to come to ensure they complete their collection.
Finally, with it being approximately 13 weeks until Christmas, the LEGO Advent Calendars came under discussion before the general conversation moved away from LEGO related subjects altogether.
A few thoughts were shared in regards to future meet up activities and challenges and some interesting ideas were suggested, so I look forward to joining in with future virtual meet ups and talking to more of our members.