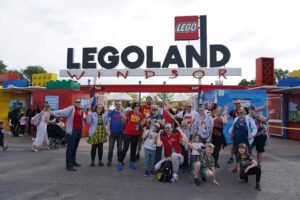 Back in September 2021, the LUG took the opportunity to visit LEGOLAND Windsor! As well as a few birthdays to celebrate and pop badges to collect it was a great excuse to see DJ L.L.A.M.A playing a concert in Miniland. Here are some highlights from our day!
Miniland:
As AFOLs Miniland felt like a holiday! We were able to visit so many incredible places, recreated as perfect miniature brick built versions, from New York to Paris all in an hour. In addition to the incredible buildings, we had fun spotting several brick built figures that had been placed strategically around them. From the cricketers enjoying a match to the beach-goers enjoying an ice cream.
The Dragon:
LEGOLAND Windsor's only rollercoaster does not disappoint. As you begin your ride, you're taken through life size LEGO characters of stories you know and love before embarking on The Dragon's adventure which takes you on twists, turns, ups and downs. It was thoroughly enjoyed by all!
Deep Sea Adventure:
What's not to love? A submarine ride takes you through the water as the colourful fish, sharks and sting rays swim among carefully placed LEGO treasure chests, mermaids and turtles. It was a true sight to behold!
Lego Ninjago Ride:
We were greeted by Nya for a group photo before getting onto this incredible ride. What's not to enjoy about a 4D experience? 3D glasses? Shooting lasers with your hands? If you haven't tried this one, it is worth the wait.
Mythica!:
The one we had all been waiting for (quite literally, the queue was huge)! The new anticipated ride for 2021 was out of this world. This ride takes you on a journey through a magical world of LEGO. The journey ensures that you feel as if you're flying through with the mythical creatures around you and it really is breathtaking!
LEGO shop!:
The day would not have been complete without the LEGO shop! Nothing competes with this one. Wall to wall this shop includes sets, customisable minifigures, puzzles, teddies, magnets… the list goes on. It has something for everyone and is worth an early visit in the day if you can!
Big thanks go to Tom and Alice for the excellent write-up, sorry it took so long to get it on the website and congratulations again from everyone at GertLUG on your recent marrriage!
Thanks also to those who shared pictures on our Facebook page that have been borrowed for this blog, they're all great.
And finally, we are already planning our next trip for 2022! Who's coming with us?