Wow, what a year it has been!
January - April
We started off the year (1st Jan) with an early morning trip to the Bristol LEGO store for the new set releases. This was on the verge of another national lockdown and we were lucky enough to be able to meet up and see each other. The next few months in lockdown, we were able to meet up online for fun interactive LEGO meets and casual chat and build sessions. We also had the return of our monthly build challenge which saw some excellent MOCs (My Own Creations) being made by our members, under set themes.
March also saw us pair up with Brick Alley (a different LUG from up north!) for some LUG take over meetings. It was nice to talk to AFOLs from other LUGs. We had some fun build challenges together and general LEGO chit chat. As we were still in a national lockdown, it was nice to be able to meet with other AFOLs outside of our own LUG. We also hosted our first AGM online which saw Emily take over as Chairperson for the LUG.
May
In May we were very excited to have designer Sam Johnson come to our monthly meet up and tell us all about his work with LEGO. He talked us through the element that he designed for some of his sets and some of the work that he has been involved with. It was really interesting listening to how the design process works. We also ran our build challenge for the month incorporating that 'Johnson Brick' that Sam had designed. There was some very interesting builds to come from it.
June
June saw our first LEGO show for over 18 months - since the pandemic started! We were all a bit nervous but also really excited to get back to showing our amazing MOCs to the public. Brick Express at the Avon Valley Railway went off without a hitch. It was well attended by the public and a really nice little show to get us back into the groove of displaying again. We had some new members displaying that had never displayed at a show before and it was great to see the buzz.
June also saw us have our first in-person meet up (outdoors due to covid). It was so nice to be able to hang out again with friends, chat and look at LEGO. There was even a bit of basketball involved!
July
Bristol Comicon was our second show of the year. We had great fun showing off our displays to the public again. There was an amazing buzz at the comicon with members of the public dressed up in all sorts of costumes. They loved our displays, which were mostly of a comic, gaming or film/TV theme for the occasion. In our down time, some of the members displaying even got to have a go at Jedi training!!
August
At the start of August, we were able to all meet up for a big shopping day at the LEGO Bristol store. We had lots of fun getting together and a lot of LEGO was bought. We even managed to get this impressive group photo - Even Ben the store manager got in!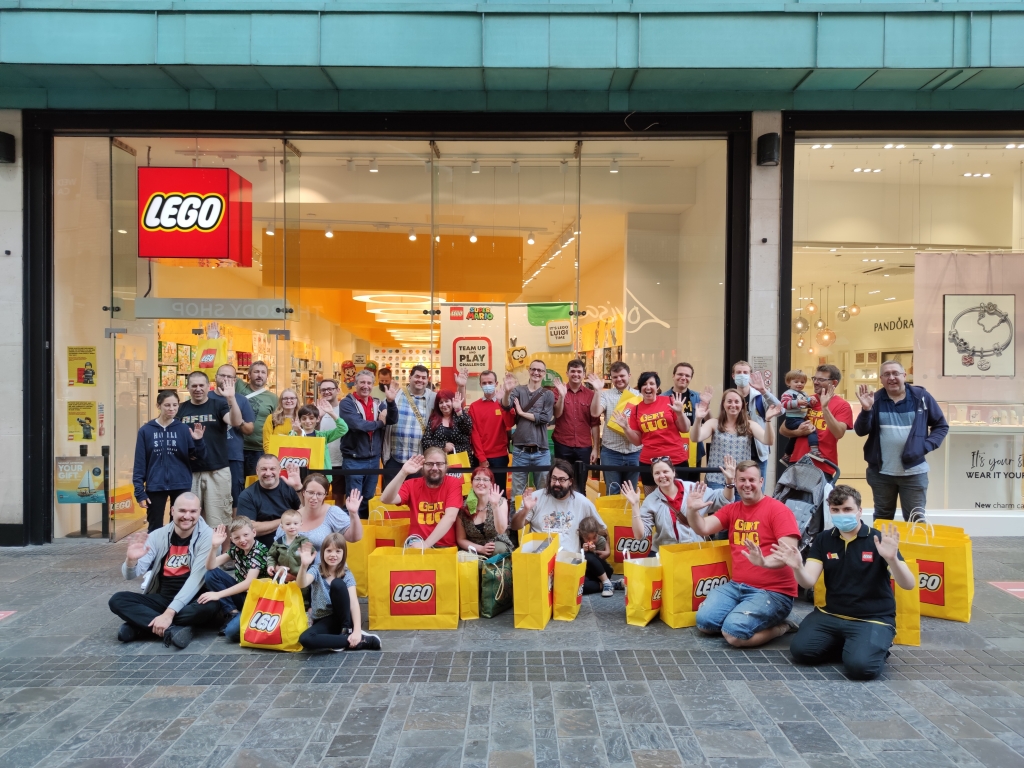 Our biggest show of the year was The Brick Show at the Galleries. It was such an exciting weekend. Over 10,000 people came through the doors at one of the biggest free LEGO shows in the UK. We had such a great time talking to the public about all the amazing MOCs that were on display. We had GBC's, Star wars, Minecraft, a massive train layout and loads of other amazing builds. It was such a great atmosphere all weekend and we were able to raise £300 for the Pahar Trust Nepal (https://www.pahar-trust.org/), who help build schools in Nepal.
September
We had our first ever LUG day trip to LEGOLAND Windsor in September. It was such a fun day after the year we'd had with Covid. It was so nice to be able to spend time together surrounded by LEGO. There were fun rides, panning for gold, learning to drive and we even got to meet DJ L.L.A.M.A!!! And let's not forget the pop badge collecting that seemed to take over most of the day! It was a fab day and we are really looking forward to doing it again this year.
September also saw LEGO's first Pop and Play come to Bristol. Some of our members managed to pop down and have a little play. There were small things to build, including Dots cupcakes and police speed bikes. You were able to try out the new VIDIYO app and take a photo in the photo booth!
October - November
October and November were relatively quiet months. We continued to have our online build and chat sessions and meet ups. We also managed to get meet ups in person too, which was absolutely fabulous! There was some amazing builds entered into the monthly build challenges.
December
The most anticipated event of the year….the GertLUG Christmas Party was back! After moving online the year before, it was great to be able to meet up. We had a fantastic day visiting the LEGO stores before hitting our favourite Carvery for a slap up meal and lots of LEGO fun and games. There were prizes to give out and silly games to play. The most memorable was the build in a bag challenge. We had over 50 members, trying to build polybags without instructions, in the bag they came in. It was a very frustrating time for all….but also very funny! We are looking forward to thinking of even more frustrating games to play next year!
So thats 2021 in a nutshell. We hope you had as much fun as we did!
Happy New Year!
Emily
(GertLUG Chairperson)